Kid-Friendly Dentistry
Kids bring a unique perspective to dental care. Some are fascinated by the instruments and have fun learning about their teeth and gums. Others are scared and anxious; they are ready to leave as soon as they walk in the door. Dr. Howell has a knack for figuring out exactly what type of personality your child has and then approaching and engaging your child in a way that makes him or her feel safe and comfortable. Our team at Andover Family Dentistry strives to create positive dental experiences and to help your child establish a solid foundation of good oral habits to maintain a lifelong beautiful, healthy smile. An associate member of the American Academy of Pediatric Dentistry, Dr. Howell enjoys treating kids and recognizes some of the unique challenges that these small patients present.
Here are a few items that our Andover dental office has added to make your child's visit to the dentist more enjoyable:
Cartoons above the Dental Chair
Laughing Gas for a Relaxing Visit
No-Shot Dental Fillings
Treasure Chest with Stickers
Check Out Some Other Cool Features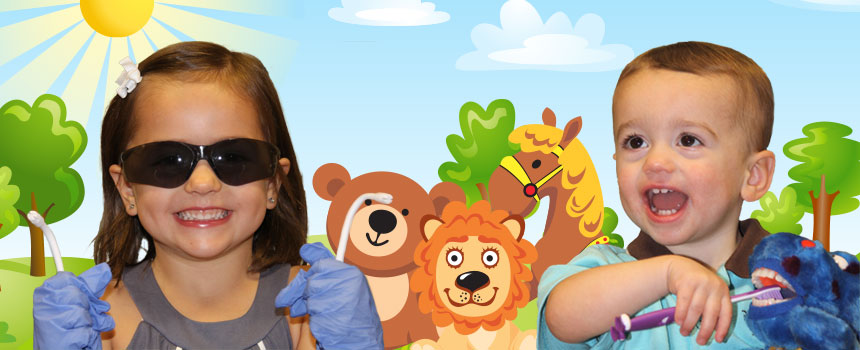 Your Child's Visit
Both the American Academy of Pediatrics and the American Academy of Pediatric Dentistry recommend that children visit a dentist by age 1. We welcome children of all ages from infants to teens to our Andover Family Dentistry practice. We make sure all children not only learn about the importance of good oral health at their visits, but also have fun!
If your child is anxious about visiting the dentist, here are some helpful tips:
Review our website with your child so that he or she can become familiar with our office. Check out the kids coloring pages and games as well!
Always speak positively about going to the dentist. Your attitude is extremely important and will have a great influence on your child.
Allow your child to perform a dental exam on you or a toy.
Read some kid-friendly dental books with your child. There are some excellent books that you can help teach your child about dentistry. We recommend:

Show Me Your Smile! A Visit to the Dentist (Dora the Explorer)
The Berenstain Bears Visit the Dentist
Just Going to the Dentist (Little Critter)

Spend time each day helping your children brush their teeth and reinforcing positive habits. This is the most important step in helping your child feel comfortable with the dentist. You can practice looking in your child's mouth and counting his or her teeth.
We look forward to treating you!
Preventive Dentistry for Kids
Kid-friendly preventive dental treatments promote healthy teeth and gums and excellent dental experiences. We offer several treatments specifically for kids to ensure your little one has a lifetime of confident smiles!
Fluoride Treatments
Fluoride is a mineral that helps prevent cavities in children and adults by making teeth more resistant to the acid attacks that cause cavities. You can think of fluoride as nature's cavity fighter. Fluoride can even arrest or repair the early stages of tooth decay reducing the need for future restorative treatment.
Dr. Howell may recommend topical fluoride treatments if he sees any signs of tooth decay. Wichita does not have fluoridated water so it important to bring your child in to see Dr. Howell to make sure he or she is getting the proper amounts of fluoride to combat tooth decay.
Dental Sealants
Dental sealants act as a barrier to prevent cavities from occurring; they basically "seal out" plaque and food. They are a tooth-colored, resin material usually applied to the chewing surfaces of the back teeth where decay occurs most often.
Custom Athletic Mouthguards
Mouthguards, or mouth protectors, are extremely important for anyone playing sports or participating in activities where their is a risk of injury to the lips, tongue, face, or jaw. They should be part of your child's standard equipment from an early age.
Dr. Howell makes custom-fit mouthguards so that the protectors fit perfectly in your child's mouth and offer the best protection.
Orthodontic Screenings
Dr. Howell can perform orthodontic screenings to check on how your child's teeth are growing and how permanent teeth will be positioned when they fully erupt. He can check for growth discrepancies and significant crowding. Having an idea of how your child's smile will develop can help you and Dr. Howell minimize extensive dental treatments in the future.