Andover Family Dentistry, Designed with You in Mind
We designed Andover Family Dentistry with your comfort and convenience in mind. We want you to feel calm and relaxed in our care so we offer amenities to make your visit to the dentist more pleasurable. We also know that your time is valuable and you need a dental practice that will work with your schedule, so we offer scheduling options that work with even our busiest patients' schedules. Dr. Howell and his friendly team strive to make each visit as comfortable as possible.
Comforting Amenities
Massaging Dental Chairs

These chairs are truly amazing. We can guarantee these are the most comfortable dental chairs you will ever try. No matter if your appointment is short or long, these chairs will help make any appointment more enjoyable.
Overhead Flatscreen TVs

While in our massaging dental chairs, you control the TV. Whether it is HGTV, ESPN, or cartoons, you have plenty of stations to choose from so the time in the chair goes by quicker.
Private Treatment Rooms

We know it is hard to relax when other people are around so our private treatment rooms are the perfect solution. Our office utilizes sound proof, full walls (not cabinet partitions or assembled walls) between each of our treatment rooms. We know our patients want privacy when it comes to their dental visits.
Gentle Dentistry

No matter why you are visiting us, we always promise to move at a pace that keeps you relaxed. Our gentle staff treats you with the compassion and care you deserve. We also utilize extra-strength numbing gels to help reduce the sensation of receiving a dental injection. The gel is powerful enough so that in some cases, you won't even need a dental injection!
Nitrous Oxide (Laughing Gas)

If you feel anxiety when visiting the dentist, we can offer nitrous oxide. Most patients say this gas keeps them comfortable during treatment. This is a very safe and comfortable way to help our anxious patients complete their dental care.
Complimentary Coffee Bar

If you arrive early to your appointment or if you are waiting for a family member while they recieve dental treatment, feel free to enjoy a fresh cup of coffee. We offer an assortment of coffees so you can find the perfect brew for you.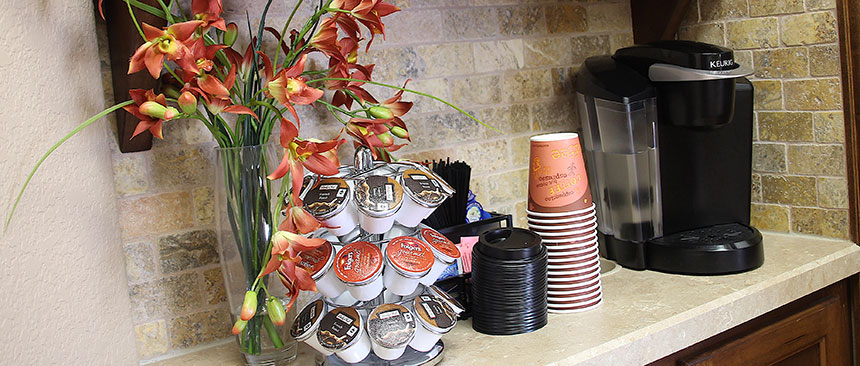 Convenience
We know our patients have lives outside of our office. That is why we have designed our office to provide flexibility for even the busiest of schedules! To make dental visits convenient for our patients, we offer appointments before and after work, easy family-block appointments, and treatment to complete the needed dentistry in as few visits as possible.
Early Morning and Evening Appointments

Balancing work, school, and family extracurricular activities can make fitting dental care into your life challenging. That is why we open as early as 7am and stay open until 6pm. This makes it easier to find appointments before or after work, and around your children's school schedules.
Lunch Time Appointments

Many dental practices take lunch from 12pm–1pm. Not us! We know this is when most people take lunch, so we stay open. Schedule your noon appointment and be back at work before your lunch break is over!
Family-Block Appointments

Large families have a hard time scheduling dental appointments because they have to take into account everyone's individual schedules. We want to help make the scheduling process a little easier with family-block appointments. We can see everyone in your family at the same time or back-to-back.
Online New Patient Forms

Our office is excited to offer this convenience to our patients! You can now take your time filling out your new patient forms in the comfort of your home using our secure portal for online forms. We will have your digital forms ready for electronic signature upon your arrival. This is a great time saver and will allow us to focus on providing you exceptional dental care.
On-Call After Hours

There is never a good time for a dental emergency, and when you have a question regarding your dental health, you want an answer right away. We always have knowledgeable team members answering the phones Monday–Friday, and we give out an after hours emergency phone number to our patients. Feel free to call us anytime. We can answer your questions, go over post-op instructions, and schedule appointments.
Located Right off Andover Road

Our office is situated right off Andover Road between Central St. and 13th St. We are only couple of miles from Kellogg, making our office an easy stop on your way to work or school.
If you experience a dental emergency after business hours, please call our office for instructions on how to reach Dr. Howell.